Title: A Cold Legacy (The Madman's Daughter #3)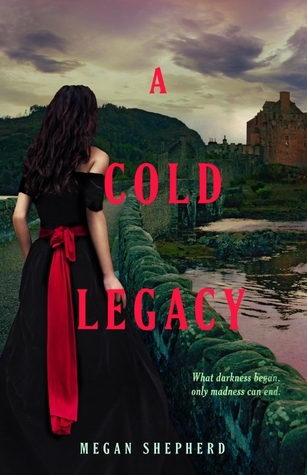 Author: Megan Shepherd
Publisher: Balzer + Bray
Publication Date: January 27, 2015
Summary: After killing the men who tried to steal her father's research, Juliet—along with Montgomery, Lucy, Balthazar, and a deathly ill Edward—has escaped to a remote estate on the Scottish moors. Owned by the enigmatic Elizabeth von Stein, the mansion is full of mysteries and unexplained oddities: dead bodies in the basement, secret passages, and fortune-tellers who seem to know Juliet's secrets. Though it appears to be a safe haven, Juliet fears new dangers may be present within the manor's own walls.
Then Juliet uncovers the truth about the manor's long history of scientific experimentation—and her own intended role in it—forcing her to determine where the line falls between right and wrong, life and death, magic and science, and promises and secrets. And she must decide if she'll follow her father's dark footsteps or her mother's tragic ones, or whether she'll make her own.
With inspiration from Mary Shelley's Frankenstein, this breathless conclusion to the Madman's Daughter trilogy is about the things we'll sacrifice to save those we love—even our own humanity.
_________________________________________________________________________________________________
I read this series in the last few months and absolutely adored it. It was dark and creepy and asked some really interesting moral questions and kind of focused on that gray line of what makes someone human. I had really high expectations for this final book, knowing that Megan Shepherd could seriously deliver an intriguing, fast paced story that gave you the shivers and made you think. That being said, I found that this book really kind of fell flat for me.
To start with, one of the things that the previous books really focused on was the love triangle between Juliet, Montgomery and Edward. Juliet is torn between both boys, and is through both books. But in this final book, it was suddenly gone. I felt like I had almost missed something. From what I remember, Juliet is still seriously struggling with her feelings between the two boys and they both love her at the end of Her Dark Curiosity. But for some reason, Juliet's mind is now completely set on one of them and the other boy never even really romantically enters her mind through the whole book, which was very out of character. I didn't understand how she picked which boy she wanted then was completely over the other one, after struggling and bouncing back and forth between them. I also didn't agree with the boy she ended up with, but that's just me wanting to be a brat for not getting my way.
I also felt like this book wasn't nearly as spooky or suspenseful as the last two, something that I felt really made the book stand out. In the first one, Juliet is on the island with her father's horrible experiments, being hunted by a creature through the jungle and at night, and the tone and atmosphere was terrifying. It really made my skin crawl. Then the second on has her back in London, with people being brutally murdered, bloody flowers being left for her, and most terrifying of all, Beast making appearances. Both books were spooky and unsettling for different reasons, but it worked so well. In this book, nothing was really unsettling. The castle wasn't spooky, none of the characters made you feel unsettled and nothing about the plot was particularly suspenseful. I was very disappointed to find that I made it through this book without once getting goosebumps or wanting to turn on the lights.
Some of the characters felt really lacking in this book in comparison to the other two. I really enjoyed seeing Lucy in the second book, but in this one she was just kind of a huge mess and constantly acted out of character. Elizabeth didn't end up being nearly as interesting as I had hoped and was just kind of there to play a role, it felt like. While I still really enjoyed Juliet and her internal struggles with the darkness, her interactions with the other characters didn't feel very important to the story. Most of the time it felt like awkward romance or just filler, or an excuse for her to get all mopey about her heritage and dark desires. Also, the villain in this book played a minor role and wasn't nearly as important as the villains in the other two, something I was really disappointed by.
I did like that the author was trying to send a clear message to the reader by the end of this book, about life and the choices you make, how you can make your own path, things like that. It was a good message and I liked how she tied it all together in the end. However, something happens in the book that makes the message a lot weaker than it could have been. I don't want to spoil anything but Juliet does something in this book that later she won't do again, because she realizes what having a life really means. But the fact that she had no problems doing it earlier, and that it actually turned out okay, just kind of undermined the whole message at the end.
Ultimately, I found myself being really disappointed by this book. I loved that some of the darker elements were still present, but overall, the whole tone and atmosphere of the book felt light in comparison to the others. The characters didn't feel as present or important as they should have with it being the final book, and the random romantic resolution felt really out of character. While the message was tied up nicely by the end of the book and the author made the point she was trying to make, it could have been executed a lot better and left more of an impact. I would definitely recommend this series to anyone that hasn't read it, the first two books are phenomenal, you just have to be prepared for disappointment in this last one.
RATING: 
Check out my reviews for the other books in this series: