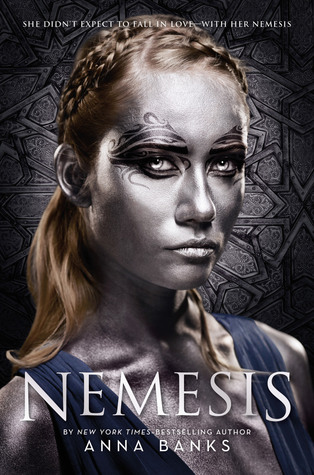 Title: Nemesis (Nemesis #1)
Author: Anna Banks
Publisher: Feiwel & Friends
Publication Date: October 4th, 2016
Summary: The princess didn't expect to fall in love–with her nemesis.
Princess Sepora of Serubel is the last Forger in all the five kingdoms. The spectorium she creates provides energy for all, but now her father has found a way to weaponize it, and his intentions to incite war force her to flee from his grasp. She escapes across enemy lines into the kingdom of Theoria, but her plans to hide are thwarted when she is captured and placed in the young king's servitude.
Tarik has just taken over rulership of Theoria, and must now face a new plague sweeping through his kingdom and killing his citizens. The last thing he needs is a troublesome servant vying for his attention. But mistress Sepora will not be ignored. When the two finally meet face-to-face, they form an unlikely bond that complicates life in ways neither of them could have imagined.
Sepora's gift could save Tarik's kingdom from the Quiet Plague. But should she trust her growing feelings for her nemesis, or should she hide her gifts at all costs?
___________________________________________________________________________________________
A huge thanks to Netgalley for an ARC in exchange for an honest review.
Am I the only one that thinks this cover is hideous? Because I keep seeing it from a distance and thinking it can't be that bad and then I actually look at it and realize, yep, it actually is that bad.
Despite the ugly cover though, I decide to go for it because it sounded intriguing and you know, don't judge a book by it's cover. In this case, I sort of wished I had.
The world was interesting, I'll give the book that much. I liked the differences between the Theoria and Serubel and enjoyed reading about Theoria as a place. It was a vibrant world and I would have loved to get more of it, but Sepora was confined to the palace for a decent portion of the book.
Another aspect of the book I liked were both Sepora and Tarik as characters. I struggled at first with connecting with either of them because of the constant flipping back and forth between point of views, some of the chapters feeling very short and abrupt. But eventually, once I got a feel for the characters, I grew to like them. Tarik especially stood out to me, as the young struggling king, and I felt his struggles when it came to putting his heart or kingdom first. That conflict always twinges my tender heartstrings. When it came to Sepora, I flipped back and forth between loving and hating her. She was tough and stubborn, both things I can respect in a young woman. But… she was also overly dramatic and kind of snotty. Although, in her defense, she is a princess.
Everything else in the book was pretty lackluster, even frustrating at times. There was a silly insta-love, which I kind of expected, considering the two main characters didn't even meet until a third of the way into the book. Their relationship was just kind of meh, mostly just Tarik musing every five seconds about how amazing Sepora's shining silver eyes are or how mouthwatering her chamomile and orchid scent is. Give me a break.
And the romance was obviously supposed to carry the story because seriously, nothing else happened. And I mean, nothing. The plot was so slow and full of a whole lot of nothing. And when something happened, it felt like it wasn't very well explained. Almost like the author had an idea for something she wanted in the book but wasn't quite sure how to work it into the story so it's explanation is sketchy and kind of unbelievable. Not only that, but I was so disappointed that Sepora's forging is never really used for anything. At the beginning, she uses it to make a knife and I thought, as an interesting power, she would use it throughout the book for various things. But I actually don't think she uses it again for the rest of the book. It was such a letdown.
I was looking forward to this book so much but it ended up being a slow love story with no much else going for it. And an unsightly cover on top of everything else.
RATING: