Title: Stone Cold Touch (The Dark Elements #2)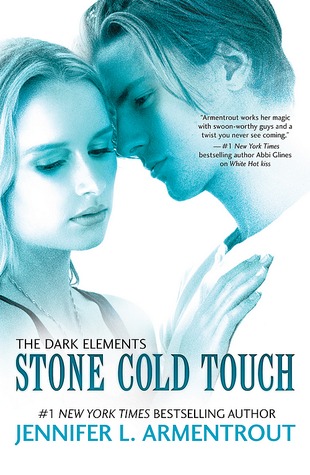 Author: Jennifer L. Armentrout
Publisher: Harlequin Teen
Publication Date: October 21, 2014
Summary: Every touch has its price
Layla Shaw is trying to pick up the pieces of her shattered life—no easy task for a seventeen-year-old who's pretty sure things can't get worse. Her impossibly gorgeous best friend, Zayne, is forever off-limits thanks to the mysterious powers of her soul-stealing kiss. The Warden clan that has always protected her is suddenly keeping dangerous secrets. And she can barely think about Roth, the wickedly hot demon prince who understood her in ways no one else could.
But sometimes rock bottom is only the beginning. Because suddenly Layla's powers begin to evolve, and she's offered a tantalizing taste of what has always been forbidden. Then, when she least expects it, Roth returns, bringing news that could change her world forever. She's finally getting what she always wanted, but with hell literally breaking loose and the body count adding up, the price may be higher than Layla is willing to pay…
__________________________________________________________________________________________________
I really didn't think it was possible, but I think I loved this one just as much as the first book, White Hot Kiss. I mean, I don't know how Jennifer L. Armentrout did it, but damn, I didn't put this book down once.
So at the end of the first book, Roth had been sent to hell, Layla could change into a weird gargoyle/demon mix, and the bad guy was stopped, only after he broke a few of Lilith's chains though. So we start off this book with Layla missing Roth, thinking he must not be coming back, and Zayne and her are kind of becoming closer. Then *poof*, Roth appears out of no where, with a warning that a Lilin has been made, and a cold-as-ice attitude towards Layla. On top of that, Layla's powers are changing and Zayne can't seem to keep his big grabby paws off of her.
The main thing that I really loved about about this book was that the plot was so interesting and really kept my attention. In the first book, I was mostly focused on the romance between Roth and Layla, but in this one, the mystery was what kept me on my toes most of the time. That might have been though because this book was a lot more about Zayne and the dreaded love triangle. But we'll get to that in a minute. The mystery was intriguing and I thought I knew what was going on, but then there was a big twist and I was wrong and my mind was blown. I love a mystery that really keeps me guessing and is unexpected. Also, there were so many kick-ass parts in this book, mostly centered around Roth being a scary demon boy, and I loved it. Is it weird that I find Roth extra attractive when he's ripping out people's spines and shoving guns into their guts? *Swoon*
Layla had a really rough time in this book. Weird things start happening when she's around and suddenly none of the Wardens, except Zayne, trust her. Even Abbott has it out for her. And it was actually really kind of sad seeing Layla still not being accepted by the man she considers her father, and knowing that they all think she is evil. You see it start to really get to her when even she starts to doubt herself. But with that, she also starts to question whether the bad side of her is really all that bad. Luckily though, she has two hunky boys trying to seduce her, so I'm sure that kept her distracted a lot of the time.
So of course, we have our love triangle. The love triangle worked a lot better for me in the last book because she was only really having a romance with Roth, she was just confused because she had been in love with Zayne forever. In this book though, she is kind of going full steam ahead with both boys and that frustrated me. Zayne is definitely the main boy focus through a big part of this book, and while I did enjoy their history and have to admit he isn't the worst guy ever, he isn't Roth. Which was something Layla had problems with too, constantly thinking about Roth when she was with Zayne, which should have been a huge sign to her. Not to mention, she should realize who the right choice is. I'm not saying that because I'm totally Team Roth, I'm saying it because of how each boy treats her. Roth lets her stand up for herself, and while he's protective, he never holds her back. He also loved both sides of her and tries to help her realize that she demon half isn't evil because that's her choice. But Zayne constantly focuses on the fact that she is half Warden, which in his mind basically cancels out the demon half. He is too protective and doesn't seem to think she is capable of taking care of herself. I think it's obvious who she would be happier with. So this was the main thing I had a problem with during the book, and while it made for some funny scenes between Zayne and Roth, I found myself wanted to beat Layla over the head with a car for being such stupid about the whole situation.
With that, I also hated how stupid she was being about Roth in general. When she finally see him again and he is so cold to her, pushing her away, she immediately does the typical teenage girl thing and get's a pitiful and sad, thinking she meant nothing to him and he was using her all the time, blah, blah, blah. I mean, it is literally a fact of life that when a dude does that to you, he is trying to protect you from something. Duh. Everyone knows that and it drives me beyond insane that for some reasons, fictional girls don't understand that. Yes, it hurts when boys say mean things and push you away. Suck it up and realize that he obviously madly in love with you and must have a really good reason for doing it! UGH! Okay, rant over.
Obviously, I really enjoyed this book. Big surprise, I'm sure. The plot kept me guessing and really manages to be unpredictable, which is something I don't say a lot with YA books. Although there wasn't as much Roth time in this book, it just made the scenes with him so much better. As far as the love triangle went, it was easy to just ignore it most of the time and focus on other things, like the mystery and Roth's tongue piercing, but at the end of the book, it kind of felt like a decision had been made, so hopefully it won't be present in the last one. Full of sexy boys, snarky come-backs, bad-ass fights, and the occasional cheesy romantic comment, this book made me giggle and squeal and hold my breathe all the way to the end.
RATING: