Title: Queen of Shadows (Throne of Glass #4)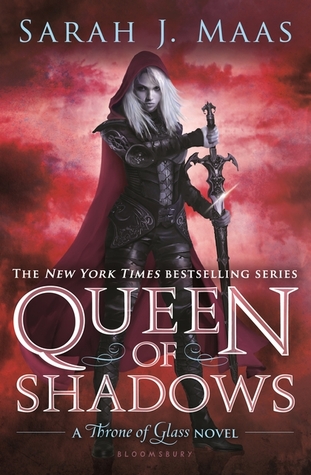 Author: Sarah J. Maas
Publisher: Bloomsbury USA Childrens
Publication Date: September 1st, 2015
Summary: Everyone Celaena Sardothien loves has been taken from her. But she's at last returned to the empire—for vengeance, to rescue her once-glorious kingdom, and to confront the shadows of her past . . .
She will fight for her cousin, a warrior prepared to die just to see her again. She will fight for her friend, a young man trapped in an unspeakable prison. And she will fight for her people, enslaved to a brutal king and awaiting their lost queen's triumphant return.
Celaena's epic journey has captured the hearts and imaginations of millions across the globe. This fourth volume will hold readers rapt as Celaena's story builds to a passionate, agonizing crescendo that might just shatter her world.
____________________________________________________________________________________________________________________________
This was one of my most anticipated books of the year, if not my most anticipated. The Throne of Glass series is one of my favorite series and one that I've amazingly never really had any sort of issue with, which is really saying something since I can be a huge nitpicker. When I got this book in the mail, I knew that it would be another successful read, an amazing continuation of this equally amazing series.
Queen of Shadows starts off with Aelin back in her city, scheming and planning against her old master, Arobynn, King of Assassins, to get back the Amulet of Orynth and the Wyrdkey inside of it. She finds out that the king has her cousin, Aedion, held prisoner and is planning on executing him on Dorian's birthday. Oh, speaking of Dorian, he's just withering away as the Valg prince takes over his mind and slowly destroys him. Oh and Chaol is leading part of the rebellion and decided to be a sulking, grumpy ball of misery. Things aren't looking very good, to say the least.
One of the biggest things I heard about this book was that people decided to not continue the series and bad talk Sarah J. Maas for her decisions surrounding Chaol. I'm a huge Chaol and Aelin shipper so I was really disappointed to find that their reunion wasn't all I had hoped and dreamed about. In fact, they basically went for each other's throats, blaming each other for everything that had happened and destroying whatever relationship they had. After a while, it became apparent that they would never be rekindling their romantic relationship, and while I found that immensely disappointing, I also understood. I think that what a lot of people are missing is that Aelin and Chaol aren't the people they were during ToG and CoM. They have gone through so many struggles and have had to change who they are to survive. Chaol was the man that Celaena needed when she was an assassin, but now she is Aelin, a queen and ruler, and she left that other girl behind. By the end of the book, Aelin and Chaol seem to be mending their friendship, but I think we can all agree that romance is out of the question, which I actually found myself supporting, simply because it wouldn't make sense for the people they are now. I think everyone should give the book a chance and realize that even though things might not go the way we want them too, realistically, in series like this, changes are going to happen, and as long as they make sense and honor the characters, I'm fully support that.
While I'm on the subject of romance, I should probably address the fact that Rowan and Aelin are now romantically involved. To be completely honest, I'm not 100% sure how I feel about this yet. A huge part of me feels like a traitor because I've always been completely on Team Chaol, but when I was reading this book, I found myself really supporting Rowan and Aelin together. Rowan is who and what Aelin needs and I adore their relationship. But the thing is, in HoF, I loved that they had such an intense connection without is being sexual or romantic, so I'm not sure how I feel about the fact that it's become that now. It was refreshing to see such a beautiful relationship that went beyond friendship between a man and woman, while remaining platonic. I'm not surprised that they starting smooching it up, and I loved every second of it, but part of me will always miss what they had before. But my inner fangirl is crying over their devotion to each other and how stinkin' adorable they are all the time.
As for the actual story in this book, it was full of so many twists and turns and intense parts that I could not put it down. I absolutely love reading books where the schemes feels so smart and there are a million layers to every plan, so kudos to Sarah J. Maas for managing to be so unpredictable and clever. I loved the revenge aspect with Arobynn and seeing their strange relationship in action, as well as the differences between Aelin and Celaena. There were so many different story lines going on, but each one was so vital and interesting, there was never a point that I was bored or uninterested. And that ending, HOLY MOTHER, I couldn't even comprehend what was happening because my mind was so blown. I mean, I NEVER saw that coming.
Aelin was, as usual, absolutely amazing. The amount of growth she goes through in every book, as well as the obstacles she overcomes, continue to shape her into more of queen. The one thing that upset me about this book was how quickly she seemed to accept Dorian's condition and how easy she made killing him seem. But Aelin will always be my number one bae. We also get more new characters in this book and my favorites had to be Lysandra and Nesryn. Those girls knew how to kick ass and take names, I mean, DAMN. And Manon, don't even get me started on how much I love that witch, having her and Aelin fight each other was like a dream come true. Just watching Aelin's court grow as she helped people and earned their loyalties literally had me tearing up at some points. I loved seeing how Rowan and Aedion never once judged her for any of her current and past actions, and their love and commitment to her was unwavering.
I can't even begin to express how excited I am for the next book in this series. Now that Aelin and her court are back in Terrasen and Dorian is king, and the war looming overhead, things are about to change for sure. I'm really excited for Chaol and Nesryn to go to the Southern Continent, and to see what Manon and her thirteen are going to do. Not to mention Elide working her way to Aelin with the Wyrdkey; I'm definitely going to cry when they are finally reunited. Okay, and am I the only one hardcore shipping Dorian and Manon together? Can we just all take a minute to enjoy the thought of Manon ruling beside Dorian? That poor boy wouldn't know what to do. In all seriousness though, this was a solid fourth book in the series, exceeding my expectations and hurting my heart and soul so good.
RATING: