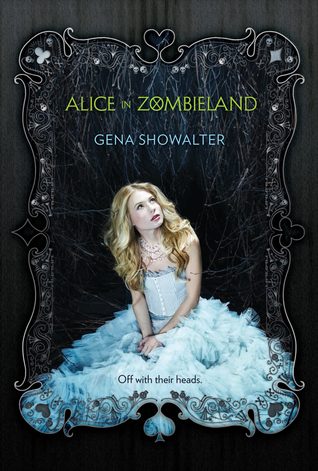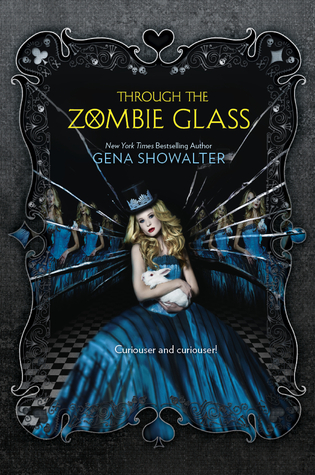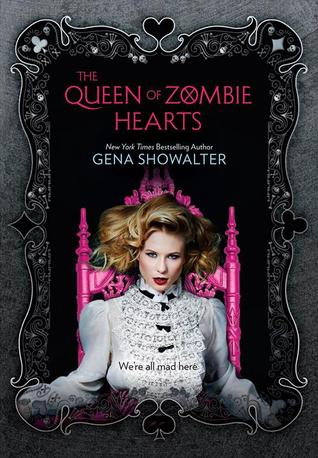 For those of you that haven't heard, Gena Showalter announced that The White Rabbit Chronicles isn't quite over yet. That's right, she is officially writing a fourth book titled A Mad Zombie Party and I couldn't be more excited. The end of the third book really left us hanging and I was definitely more than unsatisfied. Kat died, Frosty's heart was broken beyond repair, Ali and Cole still have so much left to do, I wanted more and it looks like my wish came true.
Here is the interview below or you can click on the link here.
Gena Showalter fans, you're a lucky bunch. Gena and publisher Harlequin Teen have decided the White Rabbit Chronicles trilogy will no longer be a trilogy. Book three, The Queen of Zombie Hearts, left us all wondering what would happen to our favorite characters. Gena herself felt the story was unfinished. So we're going to get book four: A Mad Zombie Party, coming our way at the end of September. Gena and her editor join HEA to explain the why and, most important, the what.
First, here's where we are in the White Rabbit Chronicles, according to Harlequin Teen: When we left Ali Bell, Cole Holland and friends at the end of The Queen of Zombie Hearts, they had just won a zombie/human war destroying the evil Anima Industries. But the gang did not emerge unscathed and one particular loss devastated the characters and their loyal fans. Messages poured in, everyone wanting to know the same thing: What happens with Frosty and Kat?
Never fear! Slayer … we mean, author Gena Showalter is back!
Gena and editor Natashya Wilson on what readers can expect from A Mad Zombie Party …
Tashya: Hi, Gena! Ready for round four?!
Gena: Dude! Are zombies hungry?? Bring. It. On. I'm basically foaming at the mouth.
Tashya: How did you feel when you wrote the final words of The Queen of Zombie Hearts?
Gena: The moment I finish any book, my feels are pretty much the same. Goes a little something like this: It's done? Whimper. Tears of joy. Oh, my back. Relief! Shower! Food! Sleep! Oh, my back. You mean I get to catch up on my favorite TV shows? Tears of joy. Oh, my back.
But after that, book-specific emotions began to settle in. With The Queen of Zombie Hearts, I experienced an extreme high — and a major low. I was so beyond pleased with what I'd written, and so happy with the growth of the characters (well, the characters who survived, that is — insert evil laugh). But I left one of my favorite boys in the lurch, with nothing but a lifetime of misery ahead if he continued along the same path. Sexy man-meat too sad for love? Not on my watch!
Tashya: How have your fans responded to the end of the trilogy?
Gena: I have been overwhelmed by the response to The Queen of Zombie Hearts. In fact, I received some of my best reviews yet. "Amazing!" "Epic!" "A book worth the wait." "Beautiful." But despite the positive feedback, a sense of heartbreak pervaded. So many wanted to know: What about Frosty? (Oh! And, of course: How could you do that to Kat?) I had to know the answer, too.
Tashya: When did you first suspect you had one more story to tell?
Gena: The moment one of my favorite characters died, and Frosty's devastation began to take over every scene. I knew I couldn't leave him that way.
Tashya: Without spoiling anything, tell us a little about A Mad Zombie Party.
Gena: The book will be told from alternating points of view. You'll get live-action thoughts from Frosty — as well as the girl he loves … or will love, one day. Kat? Or someone else? I'll never tell! (Well. Until I do, in fact, tell you.) Ali, Cole and the gang are back, and they team up with River and his crew — oops, I just dropped a huge hint about the storyline — as Anima rises from the grave, just like the zombies they created.
Tashya: What do you hope fans feel once they finish this final White Rabbit Chronicles book?
Gena: As if the darkness has at last lifted, and the light shines.
Tashya: Thank you, Gena, and a huge thank you to all the fans who have made the White Rabbit Chronicles a bestselling and much-beloved series! We are so thrilled that you have taken these characters into your hearts.
_____________________________________________________________________________________________________________
So what exactly am I hoping to get out of this book? I was honestly a little disappointed with the last one because I felt like it left us with so many unanswered questions. Cole is definitely my man-candy in this series so I'm hoping that, while I get the impression from the interview that this book is going to focus on Frosty a lot, we still get plenty of time with the other characters. I can't imagine that Gena Showalter would change up the fourth book by having a different narrator that Ali, so maybe it will bounce between like 50% her POV and the rest bouncing between other characters.
I'm really hoping that by the end of A Mad Zombie Party, we really get a sense of what direction everyone's life is going in. I wanted to die at the end of The Queen of Zombie Hearts because we just kind of got the whole, "life is going to be hard now but at least we're together" ending that left you wondering about everything.
Also, I of course want to know what happens with Frosty. Him losing Kat at the end of the third book was really just pure evil. In her interview, Gena Showalter hints that Frosty is going to have a love interest, but we don't know if it's still going to be Kat or a new girl. Kat somehow coming back seems unlikely to me, but the thought of us getting to know a new girl in just one book and being okay with her ending up with Frosty is hard to believe. Especially if Kat is still lingering around.
I really hope that Ali and Cole don't go through more relationship drama in this book. In every single previous book, they would get together, have some misunderstanding or a different love interest would break them up and it got exasperating. I wanted to bonk their heads together and lock them in a room until they just figured it out and stopped being all insecure and jealous. Hopefully after everything that goes down in The Queen of Zombie Hearts, they can finally just calm down and realize that obviously they love each other. I wouldn't mind more sexy mind visions though, those were always hot.
Besides that, with Anima back in zombie form, I'm excited that we are going to have another bad-ass, faced paced plot. I can tell just from her saying that the team has to gang up with River, who I'm super excited to see more of, that shit it going down. I wonder if Ali is going to be developing any more powers or how the gang is going to be working now that lots of them are dead or damaged and things are kind of back to normal.
So how do you guys feel about the fact that there is going to be a fourth book? Thoughts or predictions?
You can check out my review of the first book, Alice in Zombieland here.