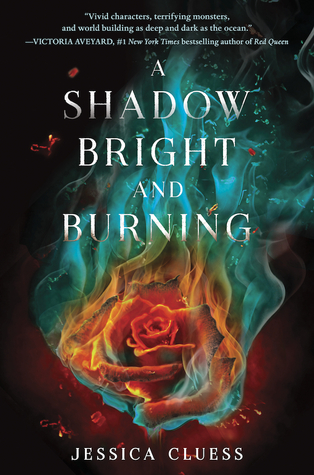 Title: A Shadow Bright and Burning (Kingdom on Fire #1)
Author: Jessica Cluess
Publisher: Random House BFYR
Publication Date: September 20th, 2016
Summary: Henrietta Howel can burst into flames. When she is brought to London to train with Her Majesty's sorcerers, she meets her fellow sorcerer trainees, young men eager to test her powers and her heart. One will challenge her. One will fight for her. One will betray her. As Henrietta discovers the secrets hiding behind the glamour of sorcerer life, she begins to doubt that she's the true prophesied one. With battle looming, how much will she risk to save the city–and the one she loves?
_____________________________________________________________________________________________________
A huge thanks to Netgalley for an ARC in exchange for an honest review.
I'm not going to lie, this one was tough for me. It's possible that this book is actually amazing on a regular basis but because I read it while still recovering from the disgusting hangover that EoS gave me, I had abnormally difficult time with it. But that being said, it doesn't change the fact that this book was really just so hard for me to get into and, to be honest, just not that great.
Right away, this book was confusing. I've never been opposed the authors acting like their readers actually have brains and letting us fill in some gaps, but damn, this book just jumped right in, talking about Ancients and having spooky monster girls on flying stags dropping out the sky. All with very little explanation about the world or what was happening. My brain was definitely a little annoyed and I found it hard to follow.
But hey, I kept reading because you know, magic and sorcerers and cool staves that you can twirl around and whoosh wind at people with. Those are all things I like. But you know what I don't like? Boring characters. The typical "chosen one" story line. Continuously stupid decisions. Giant love triangle squiggle things. All of those are bad. And all of those were in this book.
My main issue with this book was that I honestly didn't care about any of the characters at all. I had a hard time even keeping all of the boys straight, to be honest. But not even that, they also made decisions that made me resent them or had random changes of heart that made no sense to me. Two characters that hate each other with a passion through the whole book suddenly have a little heart to heart and the next thing I know, they are literally best friends. No joke, like calling each other their best friend and parading around with their arms linked, best friend badges nice and shiny for the world to see. And Henrietta lies a lot. But these boys still have this weird unshakable faith in her, almost like some sort of hero worship that feels very undeserved. Speaking of lying, this was one of those books where the main character has to lie and sneak around all the time and you are just counting down the pages until you know it's going to blow up in their face as dramatically as possible.
And of course, I have to discuss the love blob that was happening here. It felt so forced and shallow, I could hardly stand it. There are multiple guys that have feelings for Henrietta, but she hardly ever thinks about them romantically until they are in the moment and something romantic happens, then she just brushes it off with hardly a second thought. There was no progression or building when it came to the romance, it was just kind of there, but in a way that just didn't work at all. So there is definitely a love triangle, but I'm going so far as to call it a love blob because there's a third guy that doesn't pursue her romantically in this book but I'm calling it right now; it will happen.
This might seem like a random, nit-picky thing, but it bothered me so much that I have to mention it. At some point in this book, a character is telling Henrietta something important. He tries to twice and it's that thing where he conveniently gets cut off one second before he can mention the important part of what he's trying to tell her… So for example (this isn't in the book), he's like, "I only have a second. The treasure's buried in-" BOOM, CONVENIENT EXPLOSION.
Come on. This bothers me so much. It feels so childish and lazy, like the author can't think of a creative way to tie this secret in or make us intrigued enough to pick up the next book without employing the use of this extremely annoying and cheap feeling tactic.
The one redeeming factor this book had was that towards the end, it actually started to pick up and I did get a little interested. Up until about 85%, nothing really happened in the book, just Henrietta lying and juggling multiple boys and bursting into flames a few times. But last chunk of the book was a bit faster paced and exciting.
So overall, my main problem with this book was really that nothing felt original or unique. Not the story or the characters. The writing felt simple and uncomplicated, the relationships flat and forced, and the magic was disappointing. I really wanted to like this book because it sounded like something I would love, but it just didn't deliver. I will give it two stars though for the fact that I did finish it and didn't hate the end and that overall, it didn't make me angry, it just left me feeling very meh.
RATING: