Title: The Wrath and the Dawn (The Wrath and the Dawn #1)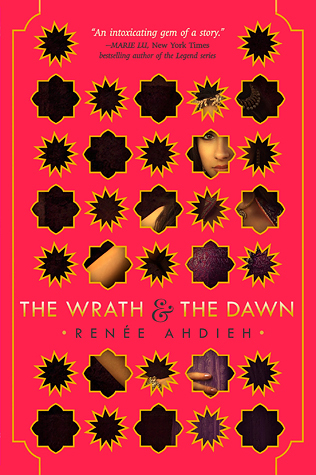 Author: Renee Ahdieh
Publisher: G.P. Putnam's Sons Books for Young Readers
Publication Date: May 12, 2015
Summary: A sumptuous and epically told love story inspired by A Thousand and One Nights
Every dawn brings horror to a different family in a land ruled by a killer. Khalid, the eighteen-year-old Caliph of Khorasan, takes a new bride each night only to have her executed at sunrise. So it is a suspicious surprise when sixteen-year-old Shahrzad volunteers to marry Khalid. But she does so with a clever plan to stay alive and exact revenge on the Caliph for the murder of her best friend and countless other girls. Shazi's wit and will, indeed, get her through to the dawn that no others have seen, but with a catch . . . she's falling in love with the very boy who killed her dearest friend.
She discovers that the murderous boy-king is not all that he seems and neither are the deaths of so many girls. Shazi is determined to uncover the reason for the murders and to break the cycle once and for all.
_______________________________________________________________________________________________________________
Going into this book, I knew absolutely nothing about A Thousand and One Nights, the story that this book is apparently based off of. To be honest, I think I remember watching a Scooby Doo episode called Arabian Nights, where Shaggy is disguised as a beautiful woman and tells the Caliph stories to postpone the wedding until Scooby can rescue him. That's literally the only thing I knew about that story going into this book. So while I've heard some complaints about this book following the story too closely and not being original enough, I personally found it very interesting and not like anything I've really read before.
In this book, we get Shahrzad, a bold and brave young woman who volunteers to marry Khalid, the young Caliph who takes a new wife every day and kills her the next morning. No, Shazi doesn't have a death wish, she just has a burning desire for revenge. With a plan to survive the night, she makes it her mission to find Khalid's weaknesses and destroy him for killing her best friend and dozens of other young girls. Our heroine was one of the real shining points in this book. She was clever and witty, brave and daring, and a force to be reckoned with. I really respect a woman who holds her own in a time period mostly dominated by men, and does so in a way that feels natural. I loved her honesty and sharp tongue, and the way she constantly spoke her mind and stood up to people. Besides Shahrzad, Khalid really stood out in his own way and had a lot of depth and layers that I wasn't expecting. The two of them were constantly bantering and challenging each other and I loved every second of it.
The romance in this book was definitely full of internal conflict and I loved that because there was real foundation behind Shazi and Khalid's fears. Shazi comes to avenger her best friend, only to fall in love with the boy who killed her, along with countless other girls. He is, without a doubt, a murderer, and there's no way to ignore that and possibly no way to ever forgive it. And for Khalid, Shazi is the only girl he has left alive, something he is very uncertain about and brings a whole new set of problems. I really felt sympathy for both of them because the situation seems hopeless. No matter how much Shazi might love him or suspect he had a reason for killing all the girls he did, it doesn't change the fact that he still did it and part of her might always hate him for it.
The only reason that I didn't give this book five stars was because I would have loved a bit more magic. In this world, magic seems to be rare, but possible. To be honest, I'm not one hundred percent sure because we don't get to learn very much about it which was a bit of a disappointment. Magic obviously plays an important role in this story, yet is hardly ever directly addressed. The world as it is, is very interesting and beautiful but by incorporating magic, it was made just a little bit more exciting and mysterious. However, by not really bringing the magic into the world in an understandable way or even bothering to really explain the rules of it, it definitely feels lacking. One of my hopes for the next book is that the magic is really explored and developed more.
This was a beautifully written tale of sacrifice and revenge, of what it means to be a monster and what it takes to love one. This book felt so unique and refreshing compared to a lot of YA books I've read lately, with diverse characters, a gorgeous world, and a story that made me feel all the feels.
RATING: