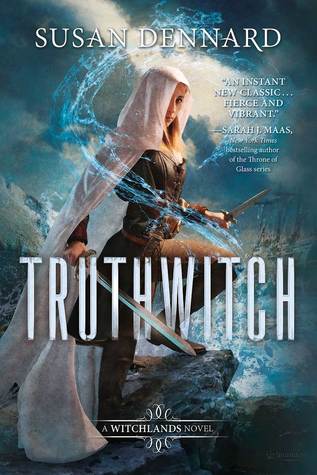 Title: Truthwitch (The Witchlands #1)
Author: Susan Dennard
Publisher: Tor Teen
Publication Date: January 5th, 2016
Summary: On a continent ruled by three empires, some are born with a "witchery", a magical skill that sets them apart from others.
In the Witchlands, there are almost as many types of magic as there are ways to get in trouble—as two desperate young women know all too well.
Safiya is a Truthwitch, able to discern truth from lie. It's a powerful magic that many would kill to have on their side, especially amongst the nobility to which Safi was born. So Safi must keep her gift hidden, lest she be used as a pawn in the struggle between empires.
Iseult, a Threadwitch, can see the invisible ties that bind and entangle the lives around her—but she cannot see the bonds that touch her own heart. Her unlikely friendship with Safi has taken her from life as an outcast into one of reckless adventure, where she is a cool, wary balance to Safi's hotheaded impulsiveness.
Safi and Iseult just want to be free to live their own lives, but war is coming to the Witchlands. With the help of the cunning Prince Merik (a Windwitch and ship's captain) and the hindrance of a Bloodwitch bent on revenge, the friends must fight emperors, princes, and mercenaries alike, who will stop at nothing to get their hands on a Truthwitch.
________________________________________________________________________________________________________
This was one of my most anticipated books of 2016 and I'm happy to announce that in most ways, it did not disappoint. I wanted an awesome fantasy world, some threadsister bonding, awesome witcheries, and a story that kept my interest; all of which I got.
One of the biggest things for me was how much I loved Safi and Iseult and their relationship. I really wanted a good helping of girl power from this book and we got it. They are each other's priorities and you can really see the love that connects the two of them throughout the whole course of the story. It never feels forced or awkward, it genuinely feels like these girls have a history and a friendship that can never be torn apart. We do get POVs from both girls and I honestly don't know which one's my favorite. I usually like characters like Safi more, all snarky and irrational, but I found Iseult more interesting and her Threadwitch powers were more complex. Since I can't pick a favorite, I'm really glad they come as a pair.
As far as the boys go, we have Merik, the grumbly prince with some pretty awesome wind powers, and Aeduan, a nasty Bloodwitch who is determined to track the girls down. I really liked Merik, I found him to be a fun addition to the dream team. However, I absolutely love Aeduan. Okay for reals, is anyone else totally shipping him with Iseult? Because I was picking up some sparks between them and not just the rage-induced-need-to-kill-each-other kind. I found him to be the most mysterious and intriguing character, definitely the one that I wanted to learn more about and probably the one I'm most excited to read more about in the next book.
My one complaint would definitely have to be that the beginning felt slow for me. I kept reading updates of people reading this book at the same time as me, talking about how crazy and fast everything starts only a few pages in, but for me, it didn't feel like anything really starts for a while. Perhaps I was just in an impatient mood but it felt like it took a good third of the book before things started getting really exciting. And the first third of the book was rather confusing. I'm pretty good at keeping names and places straight when it comes to fantasy lands since it's something I read about a lot but I was really struggling with this one. Once we get away from all of the politics though, it was much easier to keep track of the cast and places.
Overall, I found this book to be a super fun fantasy adventure tale that focuses on a friendship between two girls with superpowers (basically) who are trying to outrun destiny. I do wish that Safi had utilized her Truthwitch gifts a little more but there were plenty of other witcheries to keep my interest. I loved all of the characters and their interactions, from romance to friendship to murderous intent. I'm certainly intrigued by the Puppeteer and the Empress of Marstok, two new bad ass ladies who will hopefully get tons of page time in the next book. While it may not have been the most memorable or unique YA fantasy read, it kept my interest and built a great foundation for the rest of the series.
RATING: