Waiting on Wednesday is a weekly meme hosted by Breaking the Spine,
which spotlights upcoming releases that we're eagerly anticipating!
_________________________________________________________________________________________________________________
Title: The Girl From Everywhere (The Girl From Everywhere #1)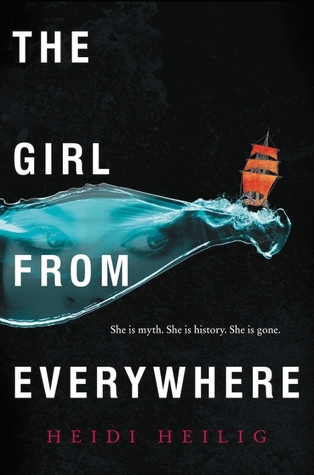 Author: Heidi Heilig
Publisher: Greenwillow Books
Publication Date: February 16th, 2016
Summary: Heidi Heilig's debut teen fantasy sweeps from modern-day New York City to nineteenth-century Hawaii to places of myth and legend. Sixteen-year-old Nix has sailed across the globe and through centuries aboard her time-traveling father's ship. But when he gambles with her very existence, it all may be about to end. The Girl from Everywhere, the first of two books, will dazzle readers of Sabaa Tahir, Rae Carson, and Rachel Hartman.
Nix's life began in Honolulu in 1868. Since then she has traveled to mythic Scandinavia, a land from the tales of One Thousand and One Nights, modern-day New York City, and many more places both real and imagined. As long as he has a map, Nix's father can sail his ship, The Temptation, to any place, any time. But now he's uncovered the one map he's always sought—1868 Honolulu, before Nix's mother died in childbirth. Nix's life—her entire existence—is at stake. No one knows what will happen if her father changes the past. It could erase Nix's future, her dreams, her adventures . . . her connection with the charming Persian thief, Kash, who's been part of their crew for two years. If Nix helps her father reunite with the love of his life, it will cost her her own.
In The Girl from Everywhere, Heidi Heilig blends fantasy, history, and a modern sensibility with witty, fast-paced dialogue, breathless adventure, and enchanting romance.
______________________________________________________________________________________________________________
Everything about this book is drawing me in and I'm absolutely giddy with excitement to get my hands on it. To start with, there is no way that I could resist the idea of a ship that can sail anywhere, any time, even places that don't actually exist; I'm already going crazy from all the possibilities. Think of all the places you could go, the people you could meet, the adventures you'd have! I really hope we get a bit of traveling throughout the book, instead of mostly just focusing on Honolulu because this idea is too great to not explore. And I just have this feeling in my gut that I'm going to really like Nix. A girl growing up surrounded by that much adventure has to be pretty cool, right? Then of course there's Kash, the Persian thief that I just know I'm going to end up falling for. I'm more than content with being predictable as long as I can make googly eyes at every rakish scoundrel of a man I read about. My main question about this story right away is whether or not Nix's father would actually essentially kill her to get her mother back… But I guess we will find out. The more I think about this book, the more I want it and chances are, I'm going to pre-order it the second I'm done with this post. No shame.