Waiting on Wednesday is a weekly meme hosted by Breaking the Spine,
which spotlights upcoming releases that we're eagerly anticipating!
________________________________________________________________________________________________________________
Title: Silver in the Blood (Silver in the Blood #1)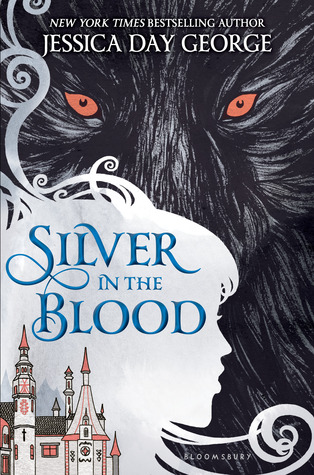 Author: Jessica Day George
Publisher: Bloomsbury USA Childrens
Publication Date: July 7, 2015
Summary: Society girls from New York City circa 1890, Dacia and Lou never desired to know more about their lineage, instead preferring to gossip about the mysterious Romanian family that they barely knew. But upon turning seventeen, the girls must return to their homeland to meet their relatives, find proper husbands, and—most terrifyingly—learn the deep family secrets of The Claw, The Wing, and The Smoke. The Florescus, after all, are shape-shifters, and it is time for Dacia and Lou to fulfill the prophecy that demands their acceptance of this fate . . . or fight against this cruel inheritance with all their might.
With a gorgeous Romanian setting, stunning Parisian gowns, and dark brooding young men, readers will be swept up by this epic adventure of two girls in a battle for their lives.
________________________________________________________________________________________________________________________
Surprisingly, I don't think that I've ever read any of Jessica Day George's other books, but I like that fairy tale retelling seems to be a theme with her. After hearing about this one though, I knew there was no way that I wasn't going to pick it up. I love the time period, I love the setting, and I love the idea of shape-shifters in both. I hope that Dacia and Lou have a really close relationship and maintain that through the book, not even letting "dark brooding young men" come between them. I am a little nervous that there might be a dreaded love triangle, but I'm going to give this book the benefit of the doubt. I'm assuming that Dacia and Lou are going to have to deal with shape-shifting and how it affects them and their lives, and I hope that it actually feels like they are struggling with it. But on top of the supernatural struggle, I also want there to be turmoil between the family members, no doubt those who view it as a curse and those who view it as a power. Anyone that's read paranormal or supernatural fantasy books, myself included, have thought at one time that it would be super cool to be a werewolf. But we all know that shape-shifting comes with a huge price and that's something I want the girls to feel conflicted about. Overall, I think Silver in the Blood will be dark and enchanting, hopefully a little spooky, with a well written romance and two girls fighting for their humanity and freedom.