Title: Crimson Bound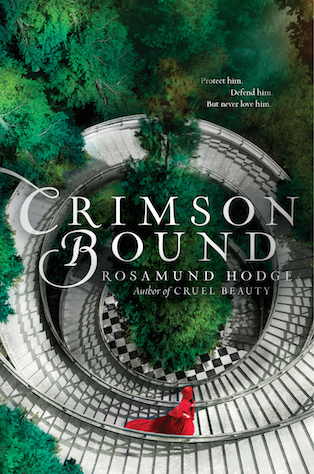 Author: Rosamund Hodge
Publisher: Balzer+Bray
Publication Date: May 5th 2015
Summary: When Rachelle was fifteen she was good—apprenticed to her aunt and in training to protect her village from dark magic. But she was also reckless— straying from the forest path in search of a way to free her world from the threat of eternal darkness. After an illicit meeting goes dreadfully wrong, Rachelle is forced to make a terrible choice that binds her to the very evil she had hoped to defeat.
Three years later, Rachelle has given her life to serving the realm, fighting deadly creatures in an effort to atone. When the king orders her to guard his son Armand—the man she hates most—Rachelle forces Armand to help her find the legendary sword that might save their world. As the two become unexpected allies, they uncover far-reaching conspiracies, hidden magic, and a love that may be their undoing. In a palace built on unbelievable wealth and dangerous secrets, can Rachelle discover the truth and stop the fall of endless night?
Inspired by the classic fairy tale Little Red Riding Hood, Crimson Bound is an exhilarating tale of darkness, love, and redemption.
__________________________________________________________________________________________________________
This fairy tale retelling craze shows no signs of stopping and I couldn't be happier. So when I saw that this book was inspired by Little Red Riding Hood, I almost started screaming out of excitement, mostly because it's a fairy tale that I don't often see getting any attention.
One of the main things that first drew me in, besides the gorgeous cover and Little Red Riding Hood influences, was the undoubtedly strong heroine. Rachelle was a very realistic character to me, in the way that she treated the whole situation she was in, knowing that she deserved the way she was treated but still hating everyone for it all the same. I found that despite her allowing herself to get mentally messed with and manipulated, she knew how to pick her battles and what things were worth fighting for. However, whenever you have a character who is very angst-ridden, it's hard to keep it from feeling forced and overly dramatic, which was something I think was a bit of a problem. But I just enjoyed how refreshing to was to have a heroine that viewed herself and others in a very honest, if sometimes harsh sort of way. Besides that, I obviously loved that she was a tough lady and knew how to hold her own, serving up some cold hard butt kicking when needed.
As far as the story went, I found it interesting and engaging. In Crimson Bound, Rachelle is a bloodbound, gifted with certain abilities, and searching for a sword from ancient stories that can destroy the Devourer. She is forced to be a bodyguard to the King's son Armand while continuing her quest to find a sword, with the deadline for the day the Devourer will return and bring about Endless Night looming over her head. One of my favorite parts of this book was actually the ancient story of the first time the Devourer was defeated by siblings, Zisa and Tyr. I loved the style in which the story was told and the dark undertones. I found it to be really haunting and expertly woven into the actual story. My main problem though was that this book really had a lot going on. The world was so interesting and so many elements and characters were woven in, making it really feel crammed and overwhelming at times. I almost wished the author had cut out some of the less interesting thing and focused on giving more information and time with the more intriguing aspects.
The romance wasn't an overwhelming part of the story, which I really appreciated, and I found that I did really like this "love triangle". I'm love triangle in quotation marks because it's not really a traditional sort of love triangle. Rachelle's relationships are two very different things with two very different men, but they are both meaningful to her and kind of represent different parts of herself. I found that very refreshing, especially the honest way that she looks at both of them and their relationships.
Crimson Bound was a really refreshing and interesting story, full of unique characters and a creative world and mythology. I was very disappointed to not really notice much that tied in with the story of Little Red Riding Hood, something I was excited to see influencing and directing this book. Despite that, I did really enjoy this story and found the writing really engaging and I was definitely pulled into this world. Although I wouldn't necessarily recommend this to fairy tale retelling lovers specifically, I would recommend it to people who enjoy fantasy and strong heroines.
RATING: