Title: A Court of Thorns and Roses (A Court of Thorns and Roses #1)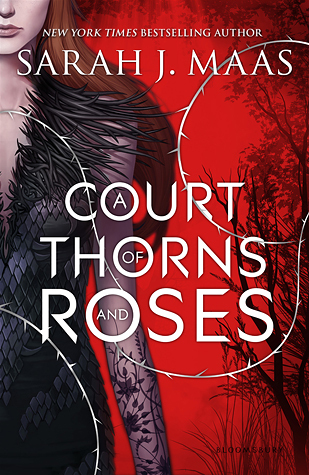 Author: Sarah J. Maas
Publisher: Bloomsbury Children's
Publication Date: May 5th, 2015
Summary: A thrilling, seductive new series from New York Times bestselling author Sarah J. Maas, blending Beauty and the Beast with faerie lore.
When nineteen-year-old huntress Feyre kills a wolf in the woods, a beast-like creature arrives to demand retribution for it. Dragged to a treacherous magical land she only knows about from legends, Feyre discovers that her captor is not an animal, but Tamlin—one of the lethal, immortal faeries who once ruled their world.
As she dwells on his estate, her feelings for Tamlin transform from icy hostility into a fiery passion that burns through every lie and warning she's been told about the beautiful, dangerous world of the Fae. But an ancient, wicked shadow grows over the faerie lands, and Feyre must find a way to stop it . . . or doom Tamlin—and his world—forever.
Perfect for fans of Kristin Cashore and George R. R. Martin, this first book in a sexy and action-packed new series is impossible to put down!
_________________________________________________________________________________________________________________
This was one of my most anticipated books of the year and I knew Sarah J. Maas was going to deliver an amazing story. I'm not ashamed to admit that I'm a huge ridiculous fangirl when it comes to her work, whether it's the Throne of Glass series or The Starkillers Cycle she's working on with Susan Dennard, I adore anything that comes out of her genius mind. This book was no exception.
The main thing I adored about this book was the cast of characters. We have Feyre, our main character, who is stubborn and full of bitterness and hate, and genuinely a good person on the inside, even if she doesn't see it. She goes through so much growth over the course of this book, learning to find happiness for herself and to love, despite her hard life. Then we have Tamlin, the fae who kidnaps Feyre, but isn't all that he seems. Living in the shadow of his father and facing a responsibility he doesn't want, Tamlin lives a lonely and cursed life… Until he brings Feyre into it. Living on Tamlin's estate, we also have his friend Lucien, another fae with a missing eye and enough snark to make up for it. And later in the book we run into Rhys, a dark and mysterious fae with an unknown agenda and a ridiculous amount of sex appeal. I wouldn't mind having one of him all to myself, just saying. All of these characters interact in such realistic and honest ways, forming friendships and bonds and you genuinely become invested in them.
This is a retelling of Beauty and the Beast, but it's one of the most original and creative ones I've read so far and I really have to applaud Sarah J. Maas for that. She took just enough of the elements of Beauty and the Beast and incorporated it into the story to make it familiar and lovable for being so, but subtle enough that the rest of the story shines through. The story itself was beautiful and so heart wrenching, full of interesting fantasy elements, an evil curse, and an amazing romance. And can I just talk about this romance for a second? Because damn, I was feeling the feels. Usually it's hard for me to go so investing in a romance in just one book and really feel the characters and their connection, but I had absolutely no problem with that. I felt like I truly knew Tamlin and Feyre and could feel when their feelings started to develop into something more. It was deliciously steamy but at the same time, so sweet and romantic that it made my heart ache.
Reading this book was overwhelming because it makes you feel so many different things, and it makes you feel them so strongly, you want to scream. In the first part of the book, you just want to know everything about all of the characters you can, becoming emotionally involved with them and their struggles. Then the romance sweeps in and you want more than anything for them to just admit their feelings and find time for their own personal happiness. At this point, as the characters grow and learn to accept each other and themselves, Sarah J. Maas swoops in and sends everything crashing down and fills your world with hurt. Now we have the quest and the mystery driving the story, and that all-consuming need to reach the end, just to know that everything will be okay. You hate the evil villain with all your heart that isn't already consumed with love for Feyre and Tamlin and Lucien and Rhys, and you want to know the solution and the end, but at the same time, you're so afraid to read because death and heartbreak could be lurking just around the corner. This book was an emotional roller coaster and all you can do is hold on for dear life and enjoy every second of it.
Without a doubt, this book was the best one I've read so far this year. It's a tale of romance and breaking curses, of freeing yourself and finding the happiness you deserve. And maybe of dirty poems, drunk dancing, neck bites, giant flesh eating worms, and smoldering manliness in three scrumptious forms, AKA Tamlin, Lucien, and Rhys. Just trust me on this one and read this beautiful book, then come talk to me about it so we can squeal and cry and fangirl until our hearts explode.
RATING: