Title: The 5th Wave (The Fifth Wave #1)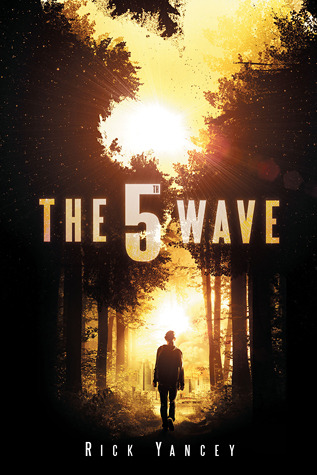 Author: Rick Yancey
Publisher:  G.P. Putnam's Sons Books for Young Readers
Publication Date: May 7, 2013
Summary:
After the 1st wave, only darkness remains. After the 2nd, only the lucky escape. And after the 3rd, only the unlucky survive. After the 4th wave, only one rule applies: trust no one.
Now, it's the dawn of the 5th wave, and on a lonely stretch of highway, Cassie runs from Them. The beings who only look human, who roam the countryside killing anyone they see. Who have scattered Earth's last survivors. To stay alone is to stay alive, Cassie believes, until she meets Evan Walker.
Beguiling and mysterious, Evan Walker may be Cassie's only hope for rescuing her brother—or even saving herself. But Cassie must choose: between trust and despair, between defiance and surrender, between life and death. To give up or to get up.
_____________________________________________________________________________________________________________________
I'm just going to start this review off by saying that damn, that beginning kicked some serious butt. This book had one of the most intriguing beginnings I've read in a long time and it really pulled me into this book. I loved the eerie, post-apocalyptic vibe going on at the start, where even though you don't really know what's going on or how the world got to this point, it really just gives you a cold shiver down your spine and a sense of apprehension. And maybe the start was just so good that my expectations were too high for the rest of the book.
Ultimately my problem with this book ended up being the middle chunk, which I had a really hard time getting into. At this point in time, Cassie encounters Evan Walker and then it turns into a sort of romantic drama. Obviously it wasn't all just about the romance, there was other stuff going on, but the romantic aspect itself held little interest to me. I'm a huge fan on The Walking Dead and one of the things I really enjoy about it is the post apocalyptic setting and seeing what the world has become. I was really wanting those elements in this book, hoping that Cassie would meet up with a group of other survivors and they would have to fight to stay alive against the invading aliens. The beginning was perfect set up for that, but when she meets Evan and they start playing house, it feels really disconnected from what's actually going on in the world.
In this middle part, we also get introduced to the other main character, Zombie, who was taken to a military base that's still operational and gets trained as a soldier to fight against the alien invasion. While I did find the training aspect interesting and I liked seeing what the government was doing to fight against the aliens, I found the characters to be rather boring. I did grow to live Zombie for the last part of the book, but when he is first introduced, I found him to be a bit bland with the whole golden boy, savior of the weak thing he had going. Also the alternating points of view really slowed down the story for me, especially since I wasn't particularly interested in the military stuff for Cassie snuggling up to Evan.
I did enjoy the last part of the book though, when Cassie and Evan decide to actually start doing some stuff and Zombie and his team start getting some action. I like the fact that this book really sort of does mind tricks where you aren't sure if things are how they seem or not or who you should trust, so it constantly keeps you on edge and trying to figure out who's telling the truth. The ending of this book was really intense and full of suspenseful moments and I loved seeing things finally coming together and starting to connect. That's the thing I like about books like this with multiple points of view, that you know things are going to end up connecting in some way, you just don't know how. And I actually really like the way the author brought our characters together in the end, even if it was a little too much of a coincidence.
Cassie was the character that really carried this book for me. Although I didn't agree with all of the decisions she makes, I really respect someone like her with such determination to live, even when most people would have given up. I admired the spunk and steel that she has, even when she isn't feeling confident or strong. But mostly I really enjoyed her internal dialogue, sharing her story and battling to learn to trust and to not give up hope. She felt like a very real character to me and I never had that feeling like she was trying to be a bad-ass or forcing the emotions she was feeling.
Ultimately I ended up really loving the concept and beginning of this book, but I went off in a direction that I wasn't expecting and I didn't really enjoy. However, I liked where the author ended up going with the relationship between Cassie and Evan, as well as the military base and what they were doing. Aliens aren't something I read about often but I never realized how terrifying the possibility of alien attack was until I read this book and saw all the ways we could be wiped off of the planet. It was horrifying and unsettling, but I found myself weirdly fascinated with the idea. I just wish the book had focused more on how the world is now and learning to survive in it. The ending was still great though and left you feeling both anxious and excited to see where the next book goes.
RATING: