Title: Obsidian (Lux #1)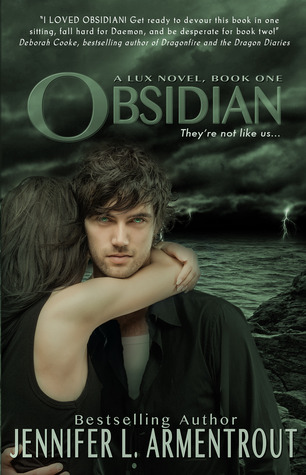 Author: Jennifer L. Armentrout
Publisher: Entangled Teen
Publication Date: May 6, 2011
Summary: Starting over sucks.
When we moved to West Virginia right before my senior year, I'd pretty much resigned myself to thick accents, dodgy internet access, and a whole lot of boring…. until I spotted my hot neighbor, with his looming height and eerie green eyes. Things were looking up.
And then he opened his mouth.
Daemon is infuriating. Arrogant. Stab-worthy. We do not get along. At all. But when a stranger attacks me and Daemon literally freezes time with a wave of his hand, well, something…unexpected happens.
The hot alien living next door marks me.
You heard me. Alien. Turns out Daemon and his sister have a galaxy of enemies wanting to steal their abilities, and Daemon's touch has me lit up like the Vegas Strip. The only way I'm getting out of this alive is by sticking close to Daemon until my alien mojo fades.
If I don't kill him first, that is.
____________________________________________________________________________________________________
Have you guys noticed the growing amount of Jennifer L. Armentrout books I've been reading lately? Apparently smoldering romance books have been taking over my life. Maybe I'll just blame it on the fact that Valentine's Day is almost here.
Obsidian is about a girl named Katy who moves to this new little town and meets her next door neighbors, a girl named Dee is who super fun and bubbly and wants to be best friends with her, and her brother Daemon who is kind of a huge jerk. She finds out that they are aliens, supernatural shenanigans happen, romance blossoms, feelings are hurt, you guys know how it goes.
I've heard nothing but raves and crazy fangirls sobbing over this book, so I went into it fully prepared to swoon and gasp and shriek. Ultimately, I was a little underwhelmed by this book. I knew it was going to be very Twilight-y and I'm okay with that, but that actually wasn't the reason that I didn't enjoy it as much as I thought I would.
To start with, Daemon was a dick. I love my boys with a nice bit of sass and maybe a little cocky, but Daemon was just a straight up douche. Like, when I compare him to Roth from White Hot Kiss, Roth is playful and funny and a bit of a jerk sometimes but we all know he isn't being serious. Daemon was rude and hurtful and arrogant in a way that made you want to punch him in the face. I didn't like how he humiliated Katy in front of a bunch of people, constantly insulted and made fun of her, and how he thought he could act that way then just automatically be forgiven because he occasionally did something nice or because Katy thinks he's hot. His behavior actually kind of ruined him for me and I never really found myself growing to like him. Maybe I hated him a little less by the end of the book, but I never liked him.
I liked Katy, she had lots of spunk and I enjoyed her witty comebacks when it came to Daemon. I also liked that she didn't really instantly start falling for him, sure she thought we was hot, but she wasn't in love with him or anything. She always called him out on being a jerk and walked away a lot which I wanted to give her a high five for, but then she would let him pop back into her life until her did something awful again. I would have respected her a lot more if she had just held her ground and pushed him away until he changed or started acting better, instead of tolerating the way her treated her. Also, Katy was one of those girls that makes some stupid decisions, gets rescued, then makes more stupid decisions. I don't understand how we are supposed to believe that girls like that survived in the real world for years without some guy to run in and save them all the time.
Despite the issues that I had with the characters, I did really enjoy the alien aspects of this book. Aliens definitely aren't anything that I read much about, so I really loved the newness of learning about alien powers and culture and whatnot versus the typical supernatural species I read about most of the time. I do wish that Daemon and Dee remembered more about their planet though because I would have loved to learn more about the differences between it and Earth and the way they lived. What we did get, learning about the different powers, their true forms and their enemies, was super intriguing.
As far as the plot went, it was a pretty light read. Most of it focused on the relationship between Katy and Daemon which I wasn't really grooving on, but the few times that we got more, like the fights between Daemon and the dark aliens, I loved it. I was actually kind of mad that the summary of this book tells you that they are aliens, because probably about half of the book is Katy trying to figure out why they are so weird. Since we already knew what was going on, it almost got boring to wait for her to catch up. However, the superficial stuff like her dealing with bitchy girls and making friends, was entertaining enough to keep me reading until the book started to pick up the pace.
Obsidian was definitely a bit of a disappointment and I didn't enjoy it half as much as I did White Hot Kiss or Wicked. I was hoping for Daemon to be a hot swoon-worthy hunk, but instead I got an immature, arrogant jerk who didn't understand that you can keep people at a distance without treating them like total crap. The predictable plot and semi-boring first half was a bit hard to get into, but the humor and alien information kept my interest enough that I obviously finished it. I still wouldn't consider this book as out of this world as everyone keeps saying it is. Get it? Out of this world? Aliens?
RATING: