Title: White Hot Kiss (The Dark Elements #1)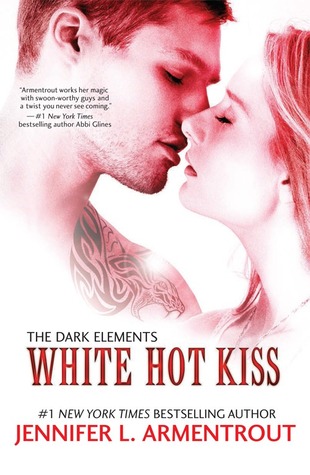 Author: Jennifer L. Armentrout
Publisher: Harlequin Teen
Publication Date: February 25, 2014
Summary: Seventeen-year-old Layla just wants to be normal. But with a kiss that kills anything with a soul, she's anything but normal. Half demon, half gargoyle, Layla has abilities no one else possesses.
Raised among the Wardens—a race of gargoyles tasked with hunting demons and keeping humanity safe—Layla tries to fit in, but that means hiding her own dark side from those she loves the most. Especially Zayne, the swoon-worthy, incredibly gorgeous and completely off-limits Warden she's crushed on since forever.
Then she meets Roth—a tattooed, sinfully hot demon who claims to know all her secrets. Layla knows she should stay away, but she's not sure she wants to—especially when that whole no-kissing thing isn't an issue, considering Roth has no soul.
But when Layla discovers she's the reason for the violent demon uprising, trusting Roth could not only ruin her chances with Zayne…it could brand her a traitor to her family. Worse yet, it could become a one-way ticket to the end of the world.
_______________________________________________________________________________________________________
This was my first time ever reading a Jennifer L. Armentrout book, but I'd heard a lot about her and her steamy smooching scenes and hunky men. Since I was in the mood for some romance and swoony guys, I was definitely excited to finally get my hands on this book.
Upon finding it waiting for me at the library, my first thought was all about how ridiculous the cover looked. That cover is the kind that will get you relentlessly teased. So when I got home, I raced up to my room like I was trying to smuggle in drugs or something. There's no shame in reading a book like this but I do get a little embarrassed when some grandma is giving me the stink eye because I'm reading a book called White Hot Kiss with two people almost making out on the cover. We all know what she's thinking about me. Is it too much to ask that steamy romance books try to look at little more inconspicuous? I mean, really?
So at the start of the book, we get introduced to Layla, girl who is basically normal except for the fact she is absolutely gorgeous and is half Warden and half Demon. And she can see people's auras. And suck out souls by kissing people. But besides that, mostly normal. Wardens, by the way, are gargoyles. But not normal gargoyles, these ones look like people until they turn into stone, and protect humans from demons. Cool stuff. Anyways, back to Layla. She goes around and "tags" demons so the Wardens can later come find them and send them back to hell. But the demon she follows ends up being a big baddie, and for some reason he seems to be looking for her specifically.  She is cornered, possibly about to die, when suddenly, out of the shadows appears… a smoking hot dude. And I mean, hot. 
It's at this point we are introduced to Roth, the smoking hot dude, a total bad boy, covered in tattoos with a deliciously snarky mouth, who just so happens to be a demon. A very powerful demon. He saves Layla, who runs for her life, ending up back at home. She lives with the Wardens, including the also hot and sexy Zayne who she has been madly in love with for years and looks at her as nothing more than a little sister. So we have the two different but irresistible boys, the demons trying to track down Layla, and that's our book.
In case you couldn't guess, this book has one big fat love triangle. And you know how much I love a good love triangle *gags*. However, I have to admit that as far as love triangles go, this might be one of the least horrible ones I've read. I only say this because I find it all so understandable. Layla has never been accepted with the Wardens, she has always felt alone, so I find it totally likely that she attached herself to Zayne, the one boy who didn't treat her like a monster. I also find it very likely that when a new guy come into her life, one who likes her for her good and bad side, she is going to be interested in him. The fact that Roth is probably the sexiest thing to ever walk into her life might have something to do with it too. And who can really blame her? I'd be all over him in a hot second.
So I'm sure to the surprise of no one, I'm totally in love with Roth. Who doesn't love a sexy, snarky demon boy? I like my boys bad and sarcastic and Roth is rocking both qualities to an extreme. I also love that he just totally has no shame. If Layla is getting all swoony over him, he totally calls her out on it then basks in her mortification. His confidence is sexy. I also like that there wasn't really a love at first sight thing going on, it was definitely more lust and everyone knew it. Roth made me giggle and blush and squeal and maybe drool just a teeny bit, and under that sexy, scrumptious, tattooed exterior, we all know he has a big heart of gold.
With that, I really like how this book is kind of pushing the young adult romance aspects a little into adult. There are some really sexy steamy parts, nothing overly graphic, but definitely not for a younger audience. And I like how Layla doesn't love Roth or anything at first, she just feels lust for him. Not everything has to be the cliche love at first sight, and I like that Jennifer L. Armentrout was really rocking that in this book. I also love that she was getting them into a bit more mature scenarios because I find that more realistic. These are hormonal teenagers dealing with a lot of sexual tension. When they finally get their hands on each other, there's going to be a bit of groping and rolling around in bed and that's okay because that's how it actually goes in real life.
When it came to Layla, I was definitely a bit nervous at first. She was doing the whole "in denial about being gorgeous" thing that makes me super annoyed. But I actually grew to like her because of what a strong character she was. She grew up without feeling like she had a place, and not in the typical angst-ridden teenage girl sort of way. All of the Wardens either hate her, want to kill her, or ignore her, so she never really felt loved or like she fit in. So it was great seeing her kind of let lose and be adventurous and rebellious through this book, and to start to find things she liked about herself. I liked that although she had to rescued a few times, she could still hold her own and had her own set of skills or talents to bring to the playing field.
As far as the plot goes, I was really interested in all of the demon and Warden stuff. I loved learning about the different sorts of demons, as well as seeing a lot more from a demon's perspective. Learning about Layla's abilities and her past was so interesting and surprising at the same time, I love all of the twists thrown in. I will admit, sometimes it felt like the plot was taking the backseat because of the romance, but you have to accept that if you're going to read this book and I never had a problem with it. And the romance never felt out of sync with the rest of the story, the whole thing flowed together really well.  Sure, it was a little cliche and cheesy sometimes, but it still made me blush and giggle a bunch. And the action scenes we did get were really badass and awesome. Let's just say that at some point, someone's spine got ripped out and I was literally cheering like a crazy woman.
Obviously, I really really loved this book. I can talk about the technical flaws it had, but really, you can't care about that if you're going to read this book. You're going to read this book if you want some sexy romance, ridiculously drool worthy guys, ass kicking, snarky comebacks, and laugh out loud moments. White Hot Kiss is basically the equivalent of book eye candy and I was not complaining. I can't not give this book 5/5 after how much fun I had reading it.
RATING: