Title: Heir of Fire (Throne of Glass #3)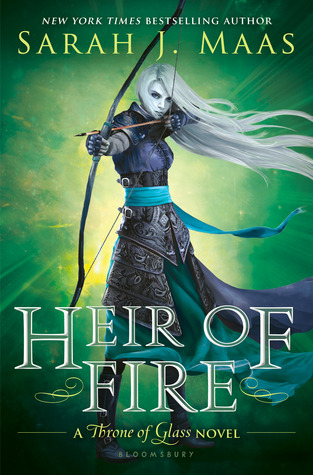 Author: Sarah J. Maas
Publisher: Bloomsbury USA Childrens
Publication Date: September 2, 2014
Summary: Lost and broken, Celaena Sardothien's only thought is to avenge the savage death of her dearest friend: as the King of Adarlan's Assassin, she is bound to serve this tyrant, but he will pay for what he did. Any hope Celaena has of destroying the king lies in answers to be found in Wendlyn. Sacrificing his future, Chaol, the Captain of the King's Guard, has sent Celaena there to protect her, but her darkest demons lay in that same place. If she can overcome them, she will be Adarlan's biggest threat – and his own toughest enemy.
While Celaena learns of her true destiny, and the eyes of Erilea are on Wendlyn, a brutal and beastly force is preparing to take to the skies. Will Celaena find the strength not only to win her own battles, but to fight a war that could pit her loyalties to her own people against those she has grown to love. ________________________________________________________________________________________________
I just finished with whole book in four hours. Four hours. My brain is hurting a little but not as much as my heart. For those of you that don't know, I love the Throne of Glass books. Like, I love them with an unholy passion. The action, the setting, the characters, the everything about these books are just so good, I can't put them down. Heir of Fire wasn't released until today but by the power of all that is holy, I got it in the mail yesterday. I don't know why, but I wasn't about to complain. And this book lived up to all of my expectations. However, just as a warning, if you haven't read it yet, my review is going to be very spoilery.
In Heir of Fire, Celaena has gone to Wendlyn, sent my Chaol to keep herself safe. But once there, she decides to find Maeve, Queen of Fae. Who is, by the way, a straight up bitch, to the surprise of no one, I'm sure. She finds Maeve who agrees to tell her all she has to know about the Wyrdkeys, but only if Celaena trains to discover the full extent of her fae power. So now Celaena is stuck training with Rowan, this cold bad ass fae, while a million other things are happening in Rifthold. And oh my god, where to start?
First of all, this book was so bitter sweet. I am a huge fan of all the Chaol and Celaena sexy time we got in Crown of Midnight, but they don't even see each other once in this book. However, so much other stuff was going on, I wasn't even sad about the lack of romance, which is saying something. When an author gives you an amazing romance, then takes it away in the next book, but makes you not even care because everything else is so good and distracting, something is being done right. The other sad thing was that in the first two books, I really came to love Chaol and Dorian. What happened to them in Heir of Fire was one of the things I was most curious about, as well as how their relationship's with Celaena progressed. But since Celaena wasn't with them, we really didn't get much time with them. However, several new characters were introduced that I fell in love with.
Manon Blackbeak. Holy shit, she is such a bad ass. I want her and Celaena to become best friends and paint each other's nails with the blood of their enemies. But seriously, the two of them could rule the world if they ever decided to team up. Manon was so impressive all the time, the way she fought and killed and had total control, she was scary but so interesting. Getting a look at all the witch clans was something I loved. The rivalry between the three clans constantly kept me on edge and the cold brutality of everything they did gave me chills. But even in the beginning, I could feel a spark of life in Manon. She was so fierce, I knew she was going to become a new favorite for me. And the second she looked at Abraxos and felt their bond, their similar desire the prove themselves and to be strong, I melted. I'm a huge How To Train Your Dragon fan and I couldn't help but imagine Abraxos as a cute, Toothless looking dragon. And the way she fixed up is spikes and wings, was a total Hiccup moment. Her love for her wyvern became her weakness and her strength. Towards the end, she was clearly questioning the ways of her people and what was in her heart, but I'm still wondering if she is going to be Celaena's enemy or friend on the battlefield.
Another new character we met was Rowan, the fae in charge of training Celaena. They had a rough start, with him being a big bossy ass butt all the time, and her being scared and battling her inner demons, but it turned out that they were both what the other one needed. I loved how he was so steady and calm to guide and help her. And watching their transformation from enemies to reluctant partners to friends to more was sad and heartwarming at the same time. While Rowan is old and sad, Celaena brings out life and hope in him, and when they got to the point where they would do anything for each other, I wanted to cry. I was nervous at first that he was going to end up being a new love interest, but it was never that for either of them, which was so refreshing. One of the things I love about Sarah J. Maas is that she knows how to create bonds through characters without going overboard. Even in book two, there was never really a love triangle situation between Dorian and Chaol because Celaena knew where her heart was. Just like with Rowan, they have an incredibly intimate bond, but not one rooted in romance. I'm just sad that she is leaving Rowan behind in the next book.
Aedion, Celaena's cousin from her past was also introduced. He was a general, one of the King's best, who killed his own people and rooted out rebellions. At first, I was nervous to see another new bad guy come into play, but he actually wasn't bad. Well, not bad in the way Celaena isn't bad. Sometimes. He kills lots of people but isn't really evil. He knows Celaena (Aelin) is alive and wants to see her take back the throne and the land and free the people. And he believes she can do it with every inch of his soul. His relationship with Celaena and his regrets and worries about what she will think of him made me so sad. He tried so hard to do what he can, but he is so uncertain. The sacrifice he made in the end was all for her, and if they don't break him out of prison in the next book, I'm going to have some serious issues. Celaena needs him, needs someone with his strength and convictions for when she forms her court to take down the king.
It was a toss up as to which story line was the best to me. Celaena's training with Rowan was so interesting, since we didn't know much about fae or her powers until this point, and watching her develop her flames and conquer her fears and her past made me feel empowered. Oh and I was dying to learn more about her past and this book delivered. That evil sneaky rotten king is such a snake. But anyways, Manon and the wyverns was so intense and interesting too. The mystery about the rotten meat and bad blood still hasn't been answered and I can't begin to guess what part they are going to play in all of this. I would think the witch clans would want magic back in the land and fight with Celaena, but they are all so bloodthirsty and heartless, maybe only Manon and her Thirteen will fight against the king. And everything going down in Rifthold, with Aedion and Chaol working for the rebellion, and Dorian falling in love with Sorscha and trying to manage his magic; I couldn't breathe every time I read one of their chapters, thinking for sure that the king was going to jump out of the shadows and kill them. Turns out, I was kinda right.
There is so much going on in this book, I haven't even had time to organize my brain. The king controlling the Valg princes is scary as fuck. Those things are going to destroy every last life in the land, I swear. Manon and the bloodthirsty witches now have wyverns to ride and rain terror down from the sky. Celaena embracing her bad ass, fire wielding fae side and planning to save the world made me want to cheer. Chaol conflicted by his duty and beliefs and love and trying to save everyone, finally kind of paid off. Dorian falling in love with a healer/spy and controlling his magic put me in a constant state of anxiety. My heart was permanently trying to beat out of my chest through this whole book.
Now the ending. Holy shit, that ending. My heart nearly exploded. Maybe it did and that's why I hurt so bad right now. I mean, holy shit. The king could die a thousand deaths and it still wouldn't be enough. I can't believe he actually just chopped off Sorscha's head right in front of Dorian. Jesus christ. Then Chaol finally manned up (maybe not at the best of times) and almost got killed by the king only for Dorian to blast everyone around with his magic. Yep, he kicked some ass, saved Chaol's life, and revealed his magic to his bastard of a father… Who promptly snapped a black collar of evil around his neck. So now Chaol has given up everything to go find Celaena and tell her what's happened, Aedion and Dorian are imprisoned, and Celaena seems to think that her returning back to Rifthold after everythin that's happened it a good idea. I'm going to vote no on that one.
This book was beautifully written and a roller coaster of feelings. The new land, new characters, it all fit in perfectly, and I can't help but feeling like everything is about to fall into place. I can't wait to see Celaena come back and claim her throne with a vengeance. This was without a doubtm worth the wait and one of the best books I've read this year. I bow down to you once again, Sarah J. Maas.
RATING: