Title: Brightly Woven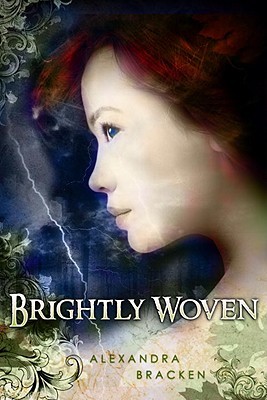 Author: Alexandra Bracken
Publisher: EgmontUSA
Publication Date: March 23, 2010
Summary: The day the rains came was like any other, blistering air coating the canyon in a heavy stillness….
Just as the rains come after ten long, dry years, a young wizard, Wayland North, appears, to whisk Sydelle Mirabil away from her desert village. North needs an assistant, and Sydelle is eager to see the country – and to join him on his quest to stop the war that surely will destroy her home. But North has secrets – about himself, about why he chose Sydelle, about his real reasons for the journey. What does he want from her? And why does North's sworn enemy seem fascinated by Sydelle himself?
Through a journey that spans a country, magic and hard-won romance are woven together with precision and brilliant design by a first-time novelist.
_______________________________________________________________________________________________________
I am a huge fan of Alexandra Bracken's Darkest Minds books and thought that I should probably read her first novel. And I'm really glad that I did. This was a really cute, adventurous, fun read that I found myself thoroughly enjoying.
Sydelle is living in a dry, dusty little village, where a drought has been going on for years. The day it starts raining, a young wizard, Wayland North, shows up in her village and whisks her away to travel arcoss the country in an attempt to stop a war. She isn't sure why North takes her with him, but it soon becomes apparent that they need to stop the war that could destroy her land. But it becomes clear that while Sydelle isn't a wizard, she might have some power of her own, power that several people seem very interested in using for their own gain.
Sydelle was a fairly likable character. She seemed whiny and over dramatic at times, but unlike most annoying, bitchy teenage girls, she actually had a good reason to be that way, and I found myself feeling sympathetic. She was basically sold off by her parents, taken away from her home only to watch it overrun and nearly destroyed, then forced to travel by foot across the country with a man she doesn't even know, assaulted by other wizards and never getting any answers. I think she is entitled to a few tears. But, she was also very strong, laying down the law with North, being persistent and stubborn about her opinions. I loved how she was tough with North when she needed to be, but so soft and caring on the inside.
The real winner for this book was Wayland North. Snarky, adorable, stubborn Wayland North. I love that in this fairly short book, the author was able to create a complex character like this. North is both sweet and and bitter, stubborn and hopeless, kind and self destructive. I love that he is so tormented inside, by his pain and insecurities, but so funny and caring. For those of you that haven't realized this by now, I have a weakness for snarky boys and North constantly had my giggling with his smart ass comments. The whole mystery surrounding him was so sad, I just wanted to pull him into a big hug, but I loved how Sydelle just took all of them in stride and tried to help him, tried to mend his poor broken soul with lovin's.
I really liked that the romance kind of took a backseat with this. It was never overwhelming, I always felt like the plot came first and the romance felt natural and not forced. It was such a breathe of fresh air to see two characters working towards a goal, fighting through the challenges they ran into, falling in love as this all went on, instead of cheesy insta-love love being the main story line. Now, there were some sappy romance spots of course, but they were just sweet and never seemed out of place. Seriously, I NEED more Sydelle and North lovey time.
As for the plot, I really liked the interesting way that magic is used in this land, with their talismans and what all the different colors mean, it was fascinating and very effective in this story. The whole jinx situation was unexpected but I loved how it created so much conflict, but in the end, everyone came to turns with it. I'm being cryptic on purpose so I don't spoil anything. I liked how all the wizards have to be ranked and how they are really the only ones that fight. The religion aspect of this story was interesting, seeing how Sydelle had so much blind faith in her goddess and the warring beliefs of the other country. Plus, the political intrigue was fun, just because everyone was plotting behind each others' backs and trying to fuck each other over. Who doesn't love a bit of good back stabbing?
The problems I had with this book was mostly that the writing was a little hollow and bland. This was Alexandra Bracken first novel, and I've definitely seen how she's improved. It's just an easy, simple read with a writing style that wasn't anything extraordinary. This shows through in some of the one dimensional secondary characters and flat dialogue. On top of that, I wish there was so much more. I want to know more about the land and magic and the other countries and it just felt like there could have been so much more meat added on and it wouldn't have made the book boring. I would call this a relaxing rainy day read.
Also, if Alexandra Bracken just so happens to read this, I NEED a sequel. Seriously, that ending was so unsatisfying and there was enough world building in this book that you could easily make a second one. I'm being haunted by thoughts of what happens after the end of this book. Just whip it out and publish it… For me.
RATING: